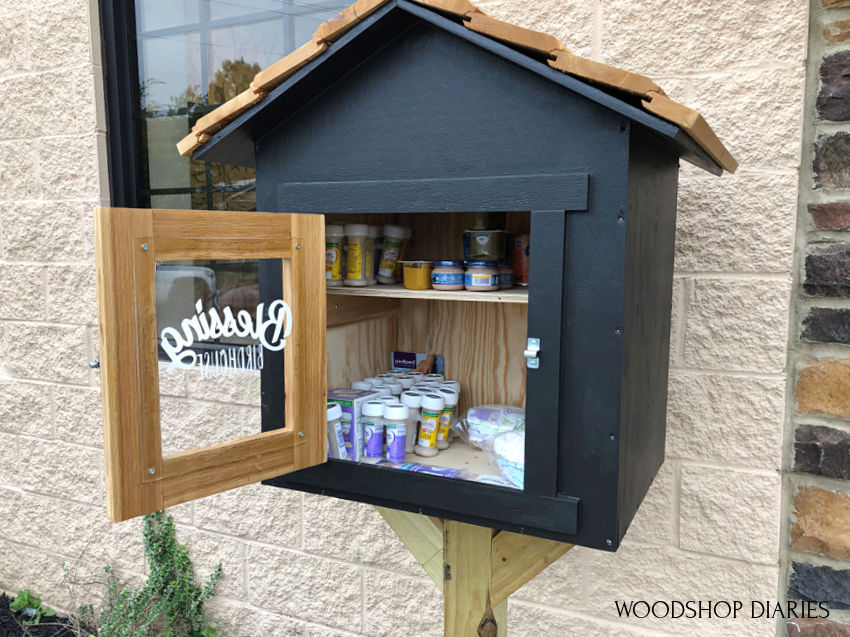 For 60 years, the women of the Christian Church (Disciples of Christ) have had a special way to express their gratitude to God for the blessings they have received – the Blessing Box.
Since 1953, Blessing Boxes have been kept in the homes and offices of women across the church to enable them to express their gratitude for everyday blessings by giving to others.
Learn more about Disciples Women Blessing Boxes here.
Now there is a new twist on this tradition that has everyone involved.
Outside Arkansas City Central Christian church sits a yellow box that sits upon a five-foot post. Inside the box are nonperishable food items and toiletries. On the box a sign reads "Take what you need, leave what you can."
This type of blessing box serves as an example of how we can follow Jesus through serving our community.  Residents who are need can pick up items and those who want to give can drop off items 24 hours a day, seven days a week.
The idea began from the concept of Free Little Libraries where library books can be taken or borrowed for free of charge and other books put back in their place.
The Blessing Box has brought together several Arkansas City community organizations from Soroptimist Club and Rotary Club to a local Girl Scout troop and the church youth group.  Anyone can help with the blessing box. All it takes is a caring heart.
Arkansas City CCC is not the only church in recent years to begin this type of ministry. Many churches, community organizations, and individuals have started created these blessing boxes to help out fellow neighbors in need.