NBA Incubate Partner and Mission and Ministry Grant Winner, Camp Sunflower continues to grow and Support LGBTQ+ youth from across the Midwest.
In 2018, Camp Sunflower launched in Wichita to serve as a safe place for young people of all sexual orientations and gender identities to connect with others, develop leadership skills, and learn coping and advocacy skills.
Born out of Pine Valley Christian Church, members decided to host a three-day camping experience for LGBTQ+ high school-aged teenagers in the Wichita community.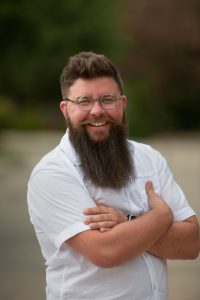 Finn Lanning, the director of the camp, who has been there from the beginning, along with other community members wanted to offer this experience to LGBTQ+ youth in the area so they'd have a place to safely be themselves.
During the year of the camp's inaugural experience, he wrote "Living in a politically conservative state, there tends to be greater stigma and fewer resources available for LGBTQ+ youth, putting them at even higher risk than in other geographical areas."
That first three-day experience allowed bold visions to blossom. Since then, the camp has operated every summer, expanding its staff and capacity to invite more LGBTQ+ youth to the dedicated campsite in the Wichita area.
Six years later, Camp Sunflower continues to grow and seek new ways to support LGBTQ+ youth. The organization has been a recipient of several National Benevolent Association (NBA) Mission & Ministry Grants, expanded its programming to include LGBTQ+ middle schoolers from across the Midwest, and became an NBA Incubate Partner in 2022.
"Camp Sunflower is excited to be in partnership with the NBA to further our shared goal of advocating for underserved communities by creating affirming and welcoming spaces for LGBTQ+ youth to build community, develop leadership and activism skills, and improve outcomes for these vulnerable young people," says Lanning.
Full story at: